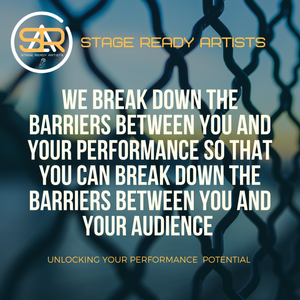 So you have a show coming up which you want to be able to let go and enjoy, but the closer it gets to the date, the more filled with fear you become. You've always wanted to perform but once on stage all the love goes out of it and all you can think about is how scared you feel and how judged you will be once on stage.
These fears may seem real but they are built up from a series of messages you have told yourself which are based upon your perception of your past performances. The problem often with this is it that it is is unlikely to be a balanced perception because humans tend to focus more on their mistakes than their successes. If you do this after a show rather than looking constructively at what you could improve on, then all you are doing each time you come off stage is reinforcing the belief that you 'always' make a lot of mistakes and that you had another unsuccessful show. The result of feeling like this makes it harder and harder to connect with your audience, as the focus is not on them but on your fear of performing and worrying about making mistakes. Your audience has no idea that this may all be going on in your mind. They are usually coming with an open mind and an open heart hoping to be entertained, yet entertainment is often furthest from your mind as it is clouded with limiting beliefs about yourself and your performance.
Try to focus on how you want your show to go rather than how you don't want it to go. Think about the needs of your audience rather than the lack of belief in yourself. Allow yourself to 'let go' and 'enjoy' your performance rather than worrying about what everyone will be thinking about you. Acknowledge your audience by looking at them and making them feel welcome. Try not to bring your baggage from past performances into your current performance and learn to perform in the moment by being fully present and engaged. All of these techniques will help you connect to your audience and give them and yourself the show you all deserve to have. Enjoy your art and other people will too.
⭐Written by Lucie Burns - Founder of Stage Ready Artists